The position of Governor is one of the five elected officials that comprise the Executive Committee.
Governor's Update on COVID-19 Response
In order to ensure continuity of communication, I began meeting regularly with the Absentee Shawnee Tribe's Emergency Management Response Team on Saturday, March 14th.  As you are aware, we have taken a broad range of preventative measures to help protect our members, our employees and our patrons. Let me ensure you that our Emergency Management Response Team is diligently monitoring the evolving public health situation and briefing me on all updates. 
In addition to the actions taken (see below), we are holding daily Emergency Operations Center (EOC) briefings at 9am and Tribal Government Impact Updates at 4pm.  During these meetings, we review and address status reports from tribal, community, state, and national perspectives.  We are also working around the clock to address our members' needs, particularly our Elders and our high-risk population to include assuring homebound patients receive their Title 6 meal services. 
At this time, I am encouraging our Tribe to follow the Center for Disease Control's guidelines – frequent handwashing, avoid non-essential travel, limit social gatherings to less than 10, and stay home if you can.  I cannot state strongly enough that if you must get out, please practice social distancing and regular hand washing. These measures protect you and your family.  Continue to check the AST website and Facebook pages for information; I assure you that we will keep you updated on any policy or procedural changes. 
Here is a timeline of actions taken to date with the most recent listed first:
April 2nd – We continue to meet daily to assess the public health situation. Currently, we are reviewing the $2 trillion coronavirus relief bill and what that will mean for Tribes.  $8 billion dollars has been set aside for Tribes as a stabilization fund.  Today, there was a conference call with the Department of Treasury and Tara Sweeney, the Assistant Secretary – Indian Affairs. This gave tribal leaders an opportunity to discuss proper and fair allocation of these funds. We will know more in the coming days what this will look like for the AST.

Oklahoma is continuing to deal with rising positive COVID test results.  The current numbers for our jurisdiction are as follows:

Cleveland County – 121
Pottawatomie County – 9
 April 1 – Today marks the 23rd day our Emergency Operations Center has been functional. I am extremely proud of all of our employees for their dedication and hard work. This is a stressful time, but our citizens and our staff have made our Tribe's safety a priority.
         It is a time of constant change, but here are a few things we want to make our members aware of:
Due to the threat to our members' health, the Absentee Shawnee Tribal Court entered an order yesterday, March 31st, to postpone the upcoming election until it is safe to reschedule. We will update you on a new date as soon as we are made aware.
As you can imagine the federal reimbursement process is very in-depth. We have numerous personnel working on reimbursement and grant documentation to ensure the Tribe receives funding to cover some of the expenses we have incurred during this pandemic.
We also greatly appreciate the donations our Emergency Operations Center continues to receive. We are now receiving daily shipments of personal protective equipment that our medical staff and frontline employees need to safely do their jobs.
Unfortunately, there continues to be community spread throughout Oklahoma. More testing labs are now operational; it is projected that Oklahoma State University is now able to process 2300 tests per day. It is only a matter of days before the University of Oklahoma will have their lab on line as well – this will increase the State's testing capabilities by an additional 1500 tests per day.

 Current numbers within our jurisdiction:

Oklahoma County – 192
Cleveland County – 93
Pottawatomie County - 6
It is unfortunate that I must report the Absentee Shawnee Tribe has been notified that an employee has tested positive for COVID-19. The AST employee has not been present on any of our campuses since March 23rd.
We have identified personnel that may have been in contact with this individual. AST Health System has screened these individuals and explained the protocols for self-monitoring and home quarantine, per the Center for Disease Control and the Oklahoma State Department of Health guidelines.
The Tribe is taking additional precautionary measures and closing the Shawnee campus to all employees through Friday, April 3rd.  During this time, shared spaces and facilities will be cleaned and sanitized.
Additional points of interest are:
The AST Office of Emergency Management began receiving and inventorying personal protective equipment (PPE) today. We anticipate future shipments to arrive soon. Please remember, if you have new equipment you would like to donate for our frontline workers, we are accepting donations at the Emergency Operation Center in Norman (you can find a list of needed supplies below).
We are continuing to work with FEMA on the reimbursement process and received our FEMA Public Assistance Letter of Approval yesterday. We have applied for additional COVID Response grant dollars through Indian Health Service and other federal agencies.  To date, we have been awarded more than $630,000.
The current confirmed positives for our area are:

Oklahoma County – 155
Cleveland County – 66
Pottawatomie County - 5

Oklahoma has not reached a peak in the virus yet and based on data from the Oklahoma State Department of Health, it will not occur until mid to late April – possibly around the 18th.  Please keep in mind, however, even when the peak occurs it does NOT mean restrictions will be lifted. 
Please continue to follow current CDC guidelines and the shelter-in-place orders. If you believe you may have been exposed or are exhibiting symptoms of the virus, please contact your primary care provider and the AST Coronavirus 24/7 Information Line at (405) 695-1787.
March 28-29, 2020 - The AST continues to hold daily briefings on COVID-19.  Our Office of Emergency Management and the AST Health System stay in close contact with state and federal agencies essential in fighting this public health crisis.  Over the weekend, our internal teams met and discussed ways in which we can continue to mitigate exposure to our members and our staff.  
The Title VI meal disbursements are an extremely important service we are offering to our eligible members and our Elders.  I would like to let our membership know the staff preparing and distributing these food items has had infections control training.  We want to do everything possible to stop the spread of this virus – particularly to our most vulnerable populations. In order to minimize exposure to our members and our staff, we are implementing a new schedule.  It is as follows:
Homebound Elders:

Monday – AST will deliver 1 hot meal and 4 additional meals consisting of non-perishable food items.
Thermometers for temperature monitoring will also be distributed during this delivery.  You will find instructions and cleaning directions with the equipment. If you find that you are running a temperature, please call the ASTHS 24 hour Coronavirus information number.

Shawnee Elder Pick-up (Little Axe Title VI will be closed)

Monday – 10am-2pm – 5 days of non-perishable food items will be distributed (milk/juice)
For the safety of our members and our staff, individuals arriving for pick-up will be stopped for a temperature check.

For any questions regarding this service, feel free to contact Tribal Health at 405-701-7621.

Our Health System has also received questions on manpower allocation during the COVID response.  Please be assured we are taking all precautions necessary to keep continuity in care in place for our members.  We are creating two teams of healthcare providers that will work in shifts. This model will help protect our frontline workers and our members from exposure.

 The Tribe is also working with the City of Shawnee Emergency Management on an alternate care site/hospital in Shawnee. This site may be used for less critical patients. We will keep you informed as this project evolves.

You have likely heard on the news just how important personal protective equipment is right now - particularly for our healthcare and frontline workers.  There is a need due to demand.  The AST Office of Emergency Management will be opening a donation site for PPE at the Emergency Operations Center located at 15702 State Highway 9, Norman, OK 73026. We will be accepting the following items below:

-          N95 Masks

-          KN95 Masks

-          Industrial N95 Masks

-          Homemade Face Masks

-          Disinfectant Wipes and/or Spray

-          Hand Sanitizer (60% Alcohol or Greater)

-          Face Shields

-          Nitrile Gloves

 

If anyone has items not listed above that they would like to donate please contact the AST Office of Emergency Management (405-740-1562) prior to delivering the items.

 

Lastly, please continue to do your part to Flatten the Curve! Wash your hands, use hand sanitizer, and physically distance yourself from others. 

March 26, 2020 - In order to keep our citizens and our employees informed, the AST is considering implementing a mass notification system.  A mass notification system isn't just useful in times such as these; it can come in handy for non-emergency communication across multiple campuses and locations.  The information we may disseminate could be anything from a weather related event to a Tribe-wide event. Once we have the finalized details, we will provide our members with additional information and how they may sign up for the notifications. 

 

Again, we are urging everyone to stay home if they can; however, if you must come on campus, the AST Police Department will be at the main entrance of the complex screening visitors/employees and checking temperatures. If a visitor or employee is running a fever, the individual will be given a card with their temperature and guidance on next steps. Thank you to the AST Health System for providing the screening cards.  

 

The current numbers within our jurisdiction are:

Oklahoma County - 73 confirmed
Cleveland County - 39 confirmed
Pottawatomie County - 2 Confirmed
Oklahoma Total - 248; 33 counties
From a National standpoint, Congress is finalizing a $2 trillion economic rescue plan that will offer assistance to American households affected by COVID-19.  This stimulus package will include payments to qualifying individuals, expanded unemployment coverage, student loan changes, different retirement account rules and much more.  We will try our best to provide our members with details as they become more available. 
In the meantime, please stay in, stay well and check on your family!
March 25, 2020 - The Absentee Shawnee Tribe continues to monitor the ongoing public health crisis.  The AST Office of Emergency Management has begun the reimbursement process through the Federal Emergency Management Administration (FEMA).  This will allow our Tribe to recover monies spent on certain eligible emergency protective measures taken in response to COVID-19. 

The AST Public Safety Department continues to work with the Norman Police Department on clarifying the shelter-in-place order.  At this time, we do not believe it will impact travel for any of our essential staff. However, our Legal Department has drafted an "Essential Staff" document for distribution to our employees. Should travel restrictions be put into place, this document states the employee in possession of the letter is vitally important to our operations - particularly within our Health System - and should be allowed to travel to and from their worksite. 

Currently, confirmed COVID cases within the AST jurisdiction are:

Cleveland - 27 confirmed / 1 death

Oklahoma - 55 confirmed / 2 deaths

Pottawatomie - 1 confirmed 

With regard to our casino operations, the decision has been made to extend the temporary closure at both Thunderbird Casino Norman and Shawnee.  Our hope is to reopen on Tuesday, April 14th.  Management will continue to monitor the situation.  Thunderbird Entertainment will continue to pay team members through the April 14th re-open date. 

Lastly, I would like to share some positive news.  Although these are trying times, our members and our staff are pulling together to take care of our Tribe and our Elders.  We have packed and delivered over 700 meals to numerous eligible individuals.  I am so very proud of our Tribe and our employees. Please continue to take care of yourselves - follow CDC guidelines and remain at home if you can.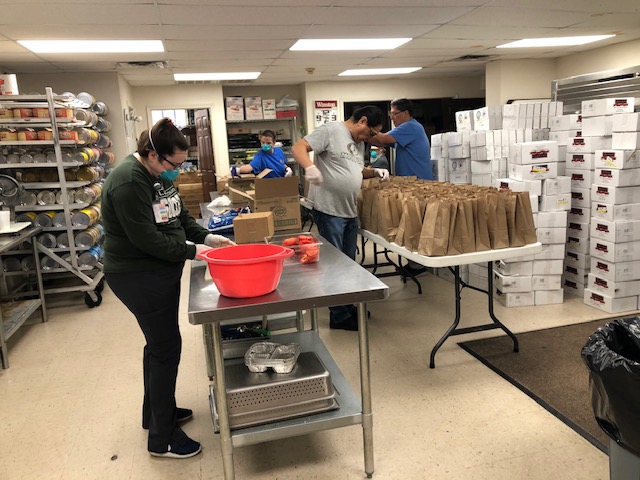 The current confirmed cases within the AST jurisdictional boundaries are as follows:
Cleveland County – 22 confirmed cases
Pottawatomie County – 1 confirmed case
Oklahoma County – 44 confirmed cases
The AST Health System will temporarily implement new hours beginning March, 25th.  
Little Axe Health Center: 8am-5pm (M-F)
Little Axe Pharmacy: 8am-7pm (M-F); 9am-5pm (Sat)
PlusCare: 11am-7pm (M-F); 9am-5pm (Sat. and Sun.)
Optometry (located inside PlusCare): 8am-5pm (M-F)
Shawnee Clinic: CLOSED until further notice
Shawnee Pharmacy: 11am-7pm (M-F); 9am-1pm (Sat); CLOSED Sunday
March 23rd - The AST Health System will continue to provide vital services and support to the Tribe - sustaining patient care on an acute basis.  At this time, those services include primary care, PlusCare, dental, behavioral health and drive-through pharmacies; physical therapy and optometry will be on an as-needed basis for post-surgical patients and emergencies. However, all high-risk AST Health System employees will be scheduled to work per CDC COVID-19 guidelines.  This may cause changes to hours of operation beginning on Monday, March 23rd.  Please look for notices on Facebook, email or the AST website.
AST Health Services has also coordinated the donation of items to create care packages for AST Elders.  The packages are distributed based on poverty guidelines, medical needs, fixed income, and transportation status of the Elders.
March 20th – The Absentee Shawnee Tribe determined the AST Campus will remain closed to visitors through April 3, 2020.  On April 3rd, we will reevaluate the situation.  Departments can be reached via email, and a list of addresses is available on the website.
March 18th– AST declared a State of Emergency. This declaration will allow us to make recommendations or institute measures quickly in order to protect our members and employees.  A declaration allows us to use all levels of our tribal government to act against this emerging threat. Furthermore, the declaration may provide our Tribe with access to additional federal support and reimbursements for emergency protective measures we have initiated.
March 17th – Under my direction, we have developed a weekly system to check on our Elders.  Based on contact information provided by our Elders Council, hundreds of Elders have received calls from our Elder Call Center. This population is a priority and we will continue to check on the health and well-being of this group.  If you are aware of an Elder that needs a well-being call, please let leadership know.
March 14th – Under the direction of the Governor's Office, AST instituted daily meetings with the AST Emergency Management Response Team, including the AST Health System and AST Public Safety.
March 13th – AST Health System initiated a 24/7 staffed COVID Information Line (405-695-1787).
March 12th - Based on public health recommendations, we made the decision to temporarily close the AST campus on March 13th.
March 10th – The AST Health System stood up a Crisis Action Team (CAT) with the AST Emergency Manager and AST Public Safety Office.  This team began assessing logistical planning needs for the Tribe, including the completion of an Oklahoma State Department of Health grant application for COVID response funding. 
March 9th – AST instituted travel restrictions for our employees in order to decrease exposure to COVID-19.
---
Location:
Office of the Governor
Building
2025 S Gordon Cooper Dr.
Shawnee, OK 74801
Phone: 405-275-4030